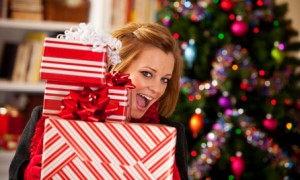 While we're not entirely sure if the weather outside is frightful yet wherever you call home, one thing is clear, the Holiday Season is rapidly approaching.  Halloween is officially in the rear view mirror and Christmas is right around the corner, which means the time for holiday shopping is here.  Left at a complete loss on what to buy those special women in your life?
Worry not, word has it that hair, and hair extensions and hair care accessories are the killer accessory this holiday season.
With holiday parties, Christmas dinners, date nights and all of the comings and goings that are associated with the Holidays, it's not a giant surprise that hair has become the go-to gift.  Treating someone in your life to a gift of professionally applied hair extensions, professional hair color, hair care products or anything of the sort is an amazing gift.
A gift of hair extensions, professionally applied and cared for is a brilliant way to allow them to play with hundreds of new hairstyles that may have been out of reach before.  Whether the women in your life have short hair, medium hair or already long, aiming your gift sights on hair and hair related accessories is a pretty safe way to guarantee a perfect and successful gift this year.
So all you lovely ladies out there, what kind of hair related gifts would you look most forward to this Holiday season?  What hair related accessories and products are on your secret letter to Santa?  We'd love to hear, so feel free to sound off!
To learn more about the latest hair extension trends and techniques for men and women, check out one of our upcoming hair extension educational classes near you.  Plus, you should follow us on Twitter and Facebook today.