Description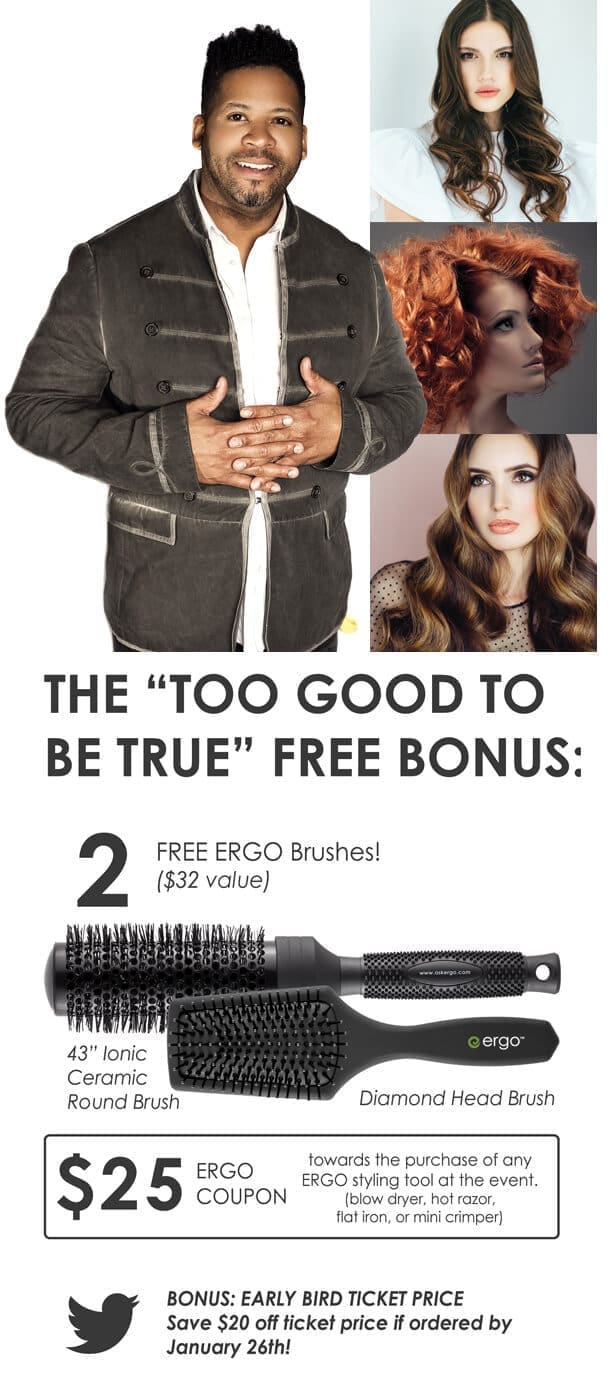 ERGO Styling Tools' Shannon King presents 3 core skills and 4 new looks for 2018 in this special 1 day class!
Earn 2 CE hours in this class with ERGO's Education & Artistic Director who will present 3 core skills essential for 2018: texture, movement and style. You'll also discover 4 trendy new looks:
Fashion Wave, Queen of Volume, Bohemian Ropes & Medusa Ropes
WHAT YOU'LL LEARN:
Hone your technical & artistic form for 2018…
HOW you work and HOW you finish.
You'll also see ERGO's styling tools & advanced methods in action:

Faster Blowouts
The Secret to Locking In Shine
How to Achieve Longer Lasting Blowouts
FIRST TICKETS SOLD OUT! We added more seats to the room and are honoring the $57.00 ticket price!
ORDER 5 OR MORE TICKETS IN 1 ORDER: SAVE AN EXTRA $10 OFF EACH TICKET!
DATE & TIME: Monday, February  26th, 2018
ERGO Testing Area: 9:00am to 10:00am
Main Stage Show: 10:30am to 12:30pm
LOCATION: The Belvedere, 1170 West Devon Ave., Elk Grove Village, IL
ABOUT SHANNON KING
Shannon King is the Education and Artistic Director for ERGO Styling Tools, a leading manufacturer of professional styling tools based in Valencia, CA. A world-respected salon educator, teachers' trainer and hair designer, King's extensive career in the professional beauty industry has already reached many heights. His media appearances include doing beauty makeovers on 'The Oprah Winfrey Show' among other press appearances and interviews. "My experiences around the world working with our industry's major companies have helped shape my abilities to inspire, teach and create. This includes everything from helping my fellow stylists to explore their creativity to building their technical, business and client communication skills."